The ancient Indian city of Ayodhya has always held a special place in our hearts and minds. As old as Kashi (ancient Varanasi), Ayodhya dates as far as back as 600-300 BCE, which corresponds to the 'Second Urbanisation Period in India'—one of the most formative periods of Indian history, when settlements grew into cities, trade and commerce flourished, and religions and philosophies emerged. Saketa, as Ayodhya was then known, saw both prosperity and decline under successive rulers, rising to its greatest heights under the Gupta Empire. Notably, it is during the rule of the Guptas that Hinduism saw a great revival, and that Saketa began to be called 'Ayodhya'. It is also under the Guptas that Ayodhya was recognized as the capital of the Ikshavaku dynasty, the line of kings to whom King Dashratha and Lord Rama belonged.
Over time, Ayodhya drew its greatest importance as the birthplace of Lord Rama and the setting of the epic 'Ramayana' and this is also how Ayodhya is seen by much of India today. The city attracts pilgrims from all over India and across the world, seeing its largest influx during festivals and important religious events. As a city having historical and religious importance, Ayodhya offers great possibility as a tourist destination. The city witnessed a tourist footfall of 1.2 crore people in 2012 which went up to 2.0 crores by 2019. At present, however, it lacks the basic infrastructure required to attract and sustain the inflow of visitors. A multi-pronged approach towards transforming Ayodhya has commenced, as part of a larger project including six other holy cities: Haridwar, Dwarka, Kanchipuram, Ujjain, Varanasi, and Mathura, with all seven collectively known as the Sapta Puri Circuit. These initiatives and developments will help revive the city back to its lost glory.
An Overview of Ayodhya
To understand the true potential of any place, it is important to understand its exact geographical location. Ayodhya is a part of the Great Northern Plains and is situated on the southern bank of the river Saryu. The city is located adjacent to Faizabad, which is less than 10 km away and has a rich history of its own. Faizabad was the first capital of the Nawabs of Awadh; it has monuments such as the Tomb of Bahu Begum and Gulab Bari. In comparison to the city of Ayodhya, Faizabad has better infrastructure and better accessibility. In 2018, the district of Faizabad, which included Faizabad city as well as Ayodhya, were renamed Ayodhya district; however, Faizabad city continues to be the main hub of commercial activity. The city has its own railway junction, which is on the same line as the Ayodhya railway junction. Both Ayodhya and Faizabad are approximately 136 km east of Lucknow, 134 km west of Gorakhpur, 198 km north of Varanasi, and 243 km north of Prayagraj.
Figure 1: Ayodhya Location

Demand Generators in Ayodhya
Ayodhya's main attractions are as follows:
Shri Ram Janmabhoomi – the archaeological excavation site as well as the temple
Shri Hanuman Garhi Mandir – a large and immensely popular Hindu temple
Kanak Bhawan – it boasts of historic architecture and a temple
Ram ki Paidi – a riverside ghat that offers daily rituals for pilgrims
Nageshwar Nath
The Under-Construction Ram Temple 
Among the places to visit, the Shri Hanuman Garhi is perhaps the most important. The reason for its popularity lies in a north-Indian custom that before visiting a Ram temple one should first pay a visit to a Lord Hanuman temple. The temple houses Hanuman's mother, Anjani, with a young Hanuman sitting on her lap.
Figure 2: Demand Generators and Tourist Attractions in and around Ayodhya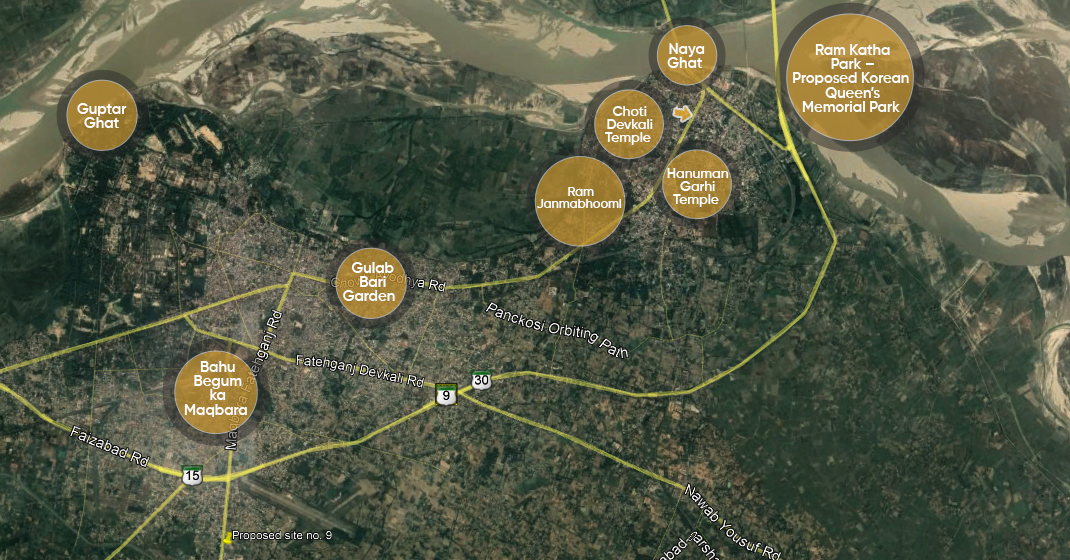 However, before discussing the master plan for Ayodhya (Ayodhya 2.0), it becomes imperative to understand the significance of pilgrim cities
Pilgrim Cities
Pilgrim cities have always had an essential role to play in Religious Tourism. In the days gone by, pilgrimages were a key reason for people to travel from one place to another, and the halting or resting spots along their route became popular destinations too. Although the roots of pilgrimages are unclear, it has been an age-old practice to visit locations significant to one's religion; most world religions, including Christianity, Judaism, Islam, Buddhism, Hinduism, and Shinto, have had pilgrimages as common practice for a very long time. Religious tourism caters to about 600 million (60 crores) visitors globally with a revenue-generating potential of about ~US$18 billion. Mecca in Saudi Arabia, The Wailing Wall in Israel, Senso-ji Temple in Japan, Vatican City in Italy, and Notre-Dame Cathedral in France are some of the popular religious tourism destinations across the globe.
For centuries now, across the world, ancient cities have held a special charm for tourists. Ayodhya, with its own place and significant mention in ancient mythology and ancient scriptures like the Ramayana and the Mahabharata, could become what Mecca means to Muslims or Vatican City means to Christians.
Figure 3: Kabba, Mecca, Saudi Arabia

Figure 4: Vatican City

Pilgrim Cities in India
Holy cities are interspersed along the length and breadth of India. These include Varanasi, Bodh Gaya, Ajmer Sharif, Haridwar, Amritsar (the Golden Temple), Vaishno Devi, Puri, Badrinath, Kedarnath, Amarnath, and many more. But superior infrastructure (transportation, accommodation, and overall safety) is what sets international destinations apart from their Indian counterparts.
Ayodhya – Version 2.0
Ayodhya Version 2.0 is an ambitious government-funded project that has started gaining momentum. As a part of the Ayodhya Mahayojana 2031 plan, the city will see revamped infrastructure, most of which has already begun construction. The government's Vision Document for Ayodhya envisages a grand new Ayodhya across the river Saryu, straddling the adjoining districts of Gonda and Basti. The new Ayodhya will also link the 1,200-acre sprawling Smart Vedic City in the proximity of Ram Janmabhoomi and connect the 300 km peripheral pilgrimage route (84 Kos Parikrama) that is believed to carry the footprint of Lord Ram.
The Ayodhya Development Authority has planned to revamp the nagri (city); this plan includes world-class tourist facilities, five-star hotels, a revamped railway station to cater to more than 1 lakh (100,000) visitors a day as well as the Ayodhya International Airport connecting it to all major cities. The government has already budgeted over ₹500 crores (₹5 billion) for the construction of the airport.
Economic nodes will also be developed around Ayodhya along with a spiritual and cultural zone. Ayodhya is a key stopping point on both the Sapta Puri circuit (the Sapta Puri being the seven holy cities mentioned earlier) and the Ramayana circuit (namely Ayodhya, Nandigram, Shringverpur, Chitrakoot, Sitamarhi, Buxar, Darbhanga, Chitrakoot, Mahendragiri, Jagdalpur, Nashik, Nagpur, Bhadrachalam, Hampi and Rameswaram). On the roadways front, various roads reaching Ayodhya will be converted into four-lane and six-lane highways. Massive entry gates inspired by the design of Ram Temple will greet commuters at six major entry routes to Ayodhya.
Most Ayodhya projects are slated to be completed by 2023, coinciding with the timeline of the partial opening of the Ram Mandir. Rolling out the Ayodhya Mahayojna 2031 plan of the Ayodhya Development Authority is on the priority list of the state government and this plan will cover the entire Ayodhya and several new areas that have come within the development authority's jurisdiction. The checklist currently now has the following on an immediate and urgent to-do by way of a five-point agenda which has:
The opening of Ram Mandir
An extensive transportation system
Railway and airway connectivity
Construction of roads
Cleaning of the river water and banks
With these in place, Ayodhya will have become ready to welcome tourists from near and far. What remains crucial to add is a range of good accommodation.
Hinduism is a diverse religion with each sub-sect having its own Gods and Goddesses of worship. The Ram Mandir aims to be the symbol of Hinduism by making the temple complex the world's third largest Hindu shrine. In the proposed (and approved) plans, the temple is said to be 235 feet wide, 360 feet long, and 161 feet high. Once completed, the design and construction will resonate with the Gujara-Chaulukya style of Northern Indian temple architecture. As soon as Ram Mandir is constructed, Ayodhya could become one of the biggest tourist cities in the world.
Figure 5: (L) Ongoing Construction for Ram Mandir, (R) Proposed Design of the Temple

The Ayodhya Vision document, which is a blueprint for the overall development of Ayodhya, has a list of 27 projects which are all a part of the master plan. The document has already been presented before Uttar Pradesh Chief Minister Yogi Adityanath and is soon to be presented to Prime Minister Narendra Modi as well. The document aims to result in the generation of four lakh direct jobs and eight lakh indirect jobs in the Uttar Pradesh city as the Ram Mandir comes up.
The vision document also proposes the construction of four main Lord Ram gates in the city, which will be inspired by the design of Ram Mandir. Apart from this, a Ramayana Spiritual Forest is slated to be constructed spanning 2,300 acres, which will also house the Ramayana Spiritual Theme Park. This park will be made to depict the 14-year exile story of Lord Ram. Nearly 27,000 trees of 88 species from the Valmiki Ramayana era are also being planted in the city as a part of the beautification project.
The National Highways Authority of India (NHAI) has undertaken the project to construct a 65-km ring road around town, from Sugriva Fort to Ram Mandir, which will see a 1,200-acre Vedic township with ashrams, Star category hotels, state Bhawans, and foreign country Bhawans, much on the lines of the diplomatic area in Delhi. The estimated cost of construction of the road is ₹2,588 crores. The plan also includes extending the route from Shringar Haat to Shri Ram Mandir as well as developing the Panch Kosi Parikrama Marg (circumambulation route) around Ayodhya with 208 spiritual sites, including ghats, ponds, recreational spots, and heritage sites.
There are also plans to build a Tourism Facility Centre at Nayaghat as well as an International Museum, which has an estimated cost of ₹200 crores. This will further create new employment opportunities in spiritual tourism, retail, trade, and public administration. From the accommodation perspective, there are plans for Dharamshalas to be constructed at the six entrances on the Highway of Ayodhya. These will be able to cater to 30,000 pilgrims. There are also plans of developing both banks of the Saryu River, beautification of the Guptar Ghat to Janki Ghat under the Swadesh scheme of the Union Tourism Ministry, aimed at reviving and beautifying 108 lakes and ponds of Ayodhya, and upgrading the Ram Katha Sanghralaya to a world-class digital museum.
It would be a great opportunity for hotels, across categories, to have presence in this re-reestablished historic city. Additionally, the city has envisioned a Vedic township that is expected to feature solar energy, electric vehicles, and eco-friendly principles of design and will have a Brahm Sthan (Holy Spot) right in the middle which will be inspired by the Ram Temple's dome.
The true potential of Ayodhya would be realized when every Hindu chooses to visit it once or more, making it a city that billions visit every year. The large NRI population that visits India often would also be a great target base for Ayodhya to focus on and cater to. The tourism campaign could also revolve around the desire for Hindus to connect with their roots and religion. Connectivity and proximity to major airports and railway stations would make travel easier.
Hotelivate has conducted studies over the past few years in the local market and our opinion is that there is currently no branded hotel supply existing or under construction (as of June 2022). We further believe that apart from visitors coming to the city to seek blessings there are tremendous opportunities for social MICE functions in the form of weddings which will be considered auspicious. It may be noted that some of the hotels built in the Ayodhya district around a certain radius may need to be alcohol-free and in some cases, some hotels will benefit from being vegetarian. However, the same rule may not apply to the Gonda district across the river.
Of all the seven holy cities for pilgrimage for Hindus, none of them have direct flights or trains. These destinations also have limited options in terms of accommodation, which deters the average tourist from travelling to them. The Indian middle class and above are market segments that have continued to increase their spend on travel, and they represent a large target market. As with all pilgrim cities, the social and emotional connection is what makes future generations look forward to something, to stay connected with their families, rituals, culture, and country. As rightly said by PM Modi – the coming generations should feel the desire to visit Ayodhya at least once in their lifetime.
"As Hotelivate, we have conducted multiple feasibility studies in this region. The government initiatives, infrastructure development, and the plethora of proposed projects will infuse the local economy with much-needed impetus. In particular, the tourism sector will benefit from these developments. In the short to medium term, there will be a significant increase in tourist footfall and demand. Therein lies the need for quality branded accommodation. Therefore, I believe that this area holds great potential for hospitality projects." – Manav Thadani
Ayodhya Dispute
The city was dealing with a long drawn-out socio-cultural, religious and political debate surrounding the plot of land in Ayodhya between Hindus and Muslims. Over years, this matter was brought up in various courts in the country. In 2019, a five-bench panel of judges at the Supreme court of India ruled that the disputed 2.77-acre land parcel be given to the Ram Janmabhoomi Trust to set up and construct the temple; the Muslim side would be compensated with a prominent site in the city to build the mosque. A more detailed overview of the entire dispute is highlighted in the timeline below.
Figure 6: Timeline of Key Events in the Ayodhya Dispute (1528-2020)